59th anniversary of the Scalabrinian Secular Missionary Women
25.07.2020
Life testimonies
Beginning of a story: a small yes
"It was July 25. A mixture of feelings, between fear and trust, were going through me.
That God who had led me this far made me perceive
the presence full of love of his crucified and risen Son.
In that moment of prayer I spoke my yes to him, handing him over my life completely.
This secret vow became my reference point and my hope:
no matter what would happen, and anything could happen,
I was in the hands of God and this for ever.
I entrusted myself to Him and this was my strength and my joy".
(from Adelia's diary)
More information: link
Similar blog articles
13.09.2020
Solothurn (CH)
Life testimonies
Donner la vie, donner envie
On the webpage of the Centre Romand des Vocations were published some short films for the series called "donner la vie, donner envie". It aims at telling about different paths and ways of living God's personal call. Among them, you will find an interview with Béatrice. English version of the text follows.
Read more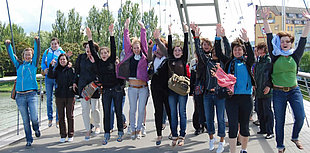 30.11.2018
Stuttgart(D)
Life testimonies
I would like to be happy
What do the words "genuine freedom" and "true love" mean? What meaning does my life have? Where and how will I find the truth among so many divergent facts and feelings? These questions, which burn in the hearts of many young people, have consciously, and sometimes unconsciously, challenged me in my search for happiness.
Read more